Due to Covid-19 we are not offering these services at this time. We apologize for any inconvenience.
Paraffin Wax Treatment- Eliminates dry skin and leaves your hands feeling sooo soft! Hands/Feet $10 Both $18

Natural Manicures
Shellac Manicure- A manicure with gel polish $45
What is it? A full manicure finished with LED-cured gel polish. The gel polish is a combination of nail polish with the durability of a gel. Maintenance is every two weeks, manicurist will remove the Shellac or Gelish , perform a manicure, and re-apply. Home maintenance is not necessary.
Shellac Final Removal and "The Mani" $37
Acrylic Removal and "the mani" $60

The Mani- The express manicure. We buff, shape, and polish. $23
The Manly Mani- We trim, file, care for cuticles, and buff $23
The Juniata- Enjoy all the extras.. We buff, shape, and care for cuticles. Includes lotion, massage, polish. $30

The Naked Manicure for men- Treats discoloration, corrects and smoothes ridges while having a natural look. $25
The Naked Manicure- A corrective treatment for problem nails with a natural look.. $31
add the Naked Manicure to any manicure $10
Repair $10 Designs $5 Custom Color $10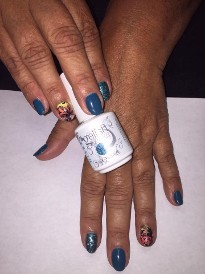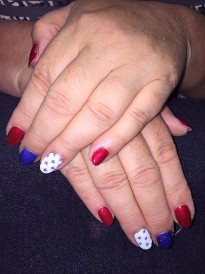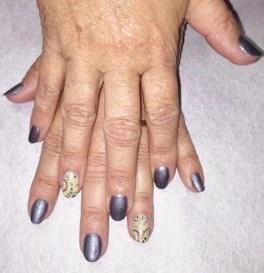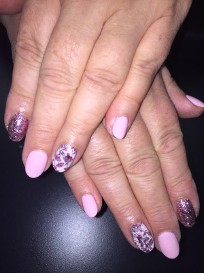 Vita- Gel-
*A light cured treatment recommended for post- removal of acrylics or gel nail enhancments
available in two formulas:
Strength- Helps grow longer, stronger nails, and helps resist chipping for extended wear.
Recovery- Fortifies with an extra dose of vitamins, repairs damage.
Recommended for post- removal of acrylics or gel nail enhancements.
Pedicures
The Express- Quick soak, trim, buff and polish $30
The Necessary- We trim, file, cuticle care, lotion, massage and polish $45
The Shellac Pedi- The Necessary Pedicure with Shellac polish. $65
The Juniata- Relax as we buff, trim, file, and massage. $55

Includes sugar scrub, lotion, hot towel wrap, polish, heated neck wrap, and a glass of wine.
The Whole Shebang- Enjoy the best of both worlds.. Mani & Pedi. $70
French Shebang- $80